How to Install IPTV PRO app on FIRESTICK & ANDROID
Features of IPTV PRO app:
It contains live TV contents with an Electronic Program guide(EPG) which lists out the accessible channels on the screen.
Here you can watch all your favorite series contents.
Adding your favorite channels and events to your list is possible.
You can get on-demand Movies & TV Series with IMDb's information.
Since it has parental control, you can easily lock any category like Adults section.
It support multiple languages.
You can also record your favorite content to watch that at your convenient time (Storage Space Required).
---
How to Download IPTV PRO app on Android?
DOWNLOAD FROM PLAY STORE, CLICK BELOW BUTTON OR SEARCH IN PLAY STORE: IPTV PRO MEDIA PLAYER APP
---
How to Download IPTV PRO app on Firestick Using Downloader App?
1. From the Main Menu scroll to hover over Settings.
2. Click My Fire TV.
3. Choose Developer Options.
4. Click Apps from Unknown Sources.
5. By default, it's off. Select it to turn it ON.
(Skip to Step 13 if you already have Downloader app installed)
6. Return to the home screen and go to the Find menu and select Search at the top
7. It will open a virtual keyboard on your FireStick. Type in Downloader.
8. Select the Downloader app.
9. Click Get or Download button.
10. Once downloaded and installed, click Open.
11. Select Allow if presented with this prompt.
12. Click OK to allow storage permissions so IPTV PRO app can be installed.
13. You will now see the following screen. Select the URL section
14. Type the following URL exactly as shown here: https://kingtv.org/app.apk and click Go.
15. Wait for the file to download. Once downloaded, click Install.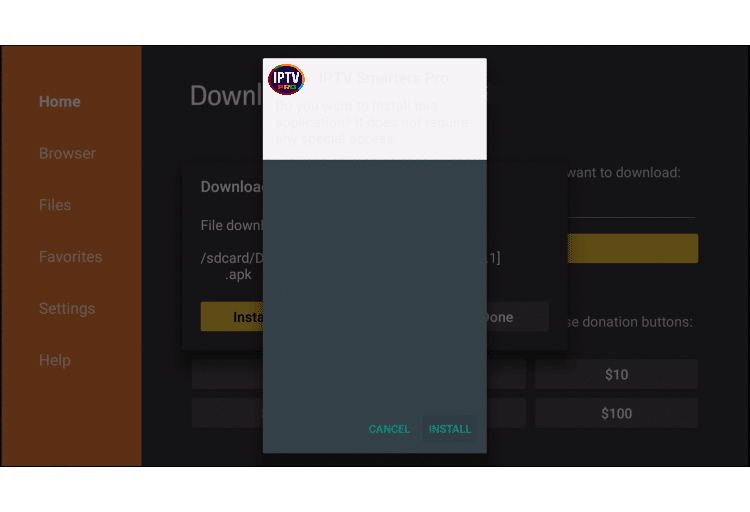 16. Once app is installed, Click Done.
17. This will take you back to Downloader. Click Delete.
18. Click Delete again.
19. Return to device home-screen and under "Your Apps & Channels" click See All.
20. Scroll down to hover over IPTV PRO app.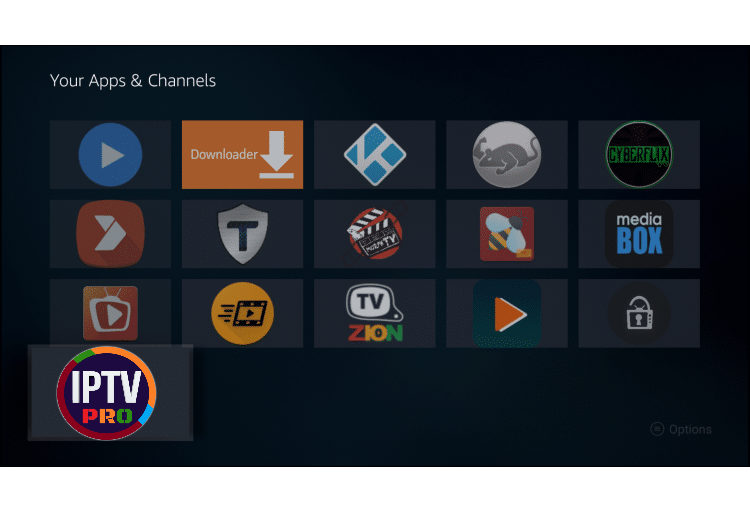 21. Click the Menu button on remote (3 horizontal lines), then click Move to Front.
App installation is now complete! Open the app to begin the setup & use login details sent to your email.
If you have not ordered yet, please CLICK HERE to order a trial.
IPTV PRO helps you to stream live IPTV channels through the IPTV services. Once the installation process is over open the live TV channels option where you can find several different channels in one single platform. It provides the channels based on countries section( USA, UK, Canada) and events section (News, Sports, NFL, NHL).
If you are interested in watching the channels based on countries like the USA, then select the channel USA where it lists out all the USA based channels without any cable TV subscription. Here you can watch any of your favorite channels at an affordable price.
Since both Cable TV and Satellite TV subscription costs much to stream your favorite channels, you can make use of this IPTV software where you can watch anything at a low cost.
How to add to Favorites?
Kindly select the channel/VOD and press and hold OK button on remote to add to favorites
You can follow the same procedure to remove from favorites.
How to manually Install IPTV PRO APK on Android?
First of all, download the app by CLICKING HERE.
Now, wait for a while until the APK file downloads.
Once it is downloaded, go to the download location.
Click on the IPTV PRO APK file to begin the installation method.
On the following screen, tap on Install and wait for some time until it installs on Android smartphones.
And then, when the installation is over, leave the installation page.
Now, you will get the image of IPTV PRO on the home page of Android Smartphones.
Open the application and then start watching your desired movies and TV shows.
How to Install IPTV PRO APK on Android Smart TV?
Since IPTV PRO is an Android application you can download and install the app on Android Smart TV easily from Play Store by searching IPTV PRO MEDIA PLAYER APP. Follow the above steps to install the app.
How to manually install IPTV PRO APK on Android devices?
First, enable the unknown sources option.
Please open a web browser and type the URL https://kingtv.org/app.apk in the search box.
App will start downloading, once downloaded please open it and install the app by going to DOWNLOADS section of your web browser or File Manager.
Once installed, please login and enjoy.
Conclusion
IPTV PRO is the best choice to watch any content. Here you don't need any cable TV or satellite TV subscription instead you can enjoy all the contents with a low cost that too in one single platform. We hope this article will help you with setting up IPTV PRO on firestick.
Frequently asked questions
1. Is the IPTV PRO app free to use?
Yes, you can use IPTV PRO for free of cost.
2. What devices support IPTV PRO APK?
Android Smartphone
NVIDIA Shield
Android Smart TV
Kodi Android Box
Fire Cube
Android SmartWatch
Android TV Box
FireStick, Fire TV
3. Is IPTV PRO APK safe from viruses?
Yes, IPTV PRO APK is safe as it is free from viruses.
4. What to do when IPTV PRO is not working?
The IPTV PRO app fails to function sometimes because of poor internet connection. So adjust your internet connection to fix the issue.
5. How to fix the common issues of  IPTV PRO on Android mobile?
IPTV PRO fails to work sometimes due to many reasons. Follow the below-given steps to fix the issues.
Sometimes it is due to an improper loading problem so in such a case click the recent app menu and then close everything to fix the issue.
reboot your device and then open the app.
If nothing works then drain your battery till your Android mobile turns off.  And then charge the device and switch on the device.
Also, you can uninstall and reinstall the app. Enter all the login information after reinstalling it so you can check whether the issue is fixed.
6. Why does the IPTV PRO app notifications fail to work?
Go to your device's Settings > Apps and click IPTV PRO, and then select Notifications to verify whether the option is enabled or not. Enable the option if it is not allowed.
7. How to fix the IPTV PRO app installation issues?
First of all, check the internet connection and speed.
Secondly, look over your device storage capacity because if your device has no space then you cannot install the app.
Also, check whether the application which your installing is accessible on the Android version.
Make sure to ALLOW STORAGE PERMISSIONS when first signing into app for EPG to populate